90s themed baby shower
I cannot believe I am only a two days away from the shower! and i know that anything can happen from now until saturday, especially since i was in triage again last night for having contractions, but I am praying that I make it and have enough energy to fully enjoy myself. for now its feet up, and online shopping from here on out. anyway, today i am sharing my inspiration. I will have pictures of how how everything turned out next week!
The conversation with my friend Jeannette went a little something like this:
Me: I think I want a nineties themed baby shower.
Jeannette: Done.
No questions. Just all in. She did proceed to send me a picture of Baby Sesame Street characters to see how nineties I wanted to go. I quickly sent her my pinterest board to resolve that issue. I am not a huge fan of baby showers in general. I could barely get through my bridal and bachelorette showers without squirming from all of the attention. Opening up presents in front of guests eagerly awaiting for you to approve of their gifts over everyone else's. Gag me with a spoon.
Since my shower fell a week after my birthday, I wanted the shower to be a tad more sophisticated with gentle nods to the nineties. I remember making tons of mixtapes with my sister as a kid, watching endless game shows on Nickelodeon and prime time television. Slap bracelets and Tiger electronics. TLC and Lauryn Hill. Keith Haring doodles and Doc Marten boots. Cropped tops and baggy bottoms. I could go on.
Most of the posts and images I researched online were how to make a kitschy 90's themed party, which is not what i wanted. I wanted to be far more subtle than that without losing the references. If i were in the nineties planning a party, i wouldn't decorate a party with novelty items, because they wouldn't be novelty back then. So i just tried to remember as much as i possibly could about the nineties (early nineties because the fashion was way cooler) and give them a salute.
decor & design
The few design elements i remember of the early nineties were actually birthed in the late eighties and carried over into the nineties. I remember Keith Haring's more kid friendly illustrations on advertisements and tv. I found an illustration of his devoted to pregnant mothers and a floating baby. I decided to use that motif for my mixtape invitations.
Memphis style art was the backdrop of Saved by the Bell's intro and a lot of the set design. Geometric patterns mixed with abstract shapes or grids. Bash Party Goods has cute options for Memphis style revival decor. I got their plates and napkins in fairly neutral colors so that they wouldn't clash with any other decor items.
Since baby K is our rainbow baby, I wanted to make sure I had some colorful elements at the shower. I didn't want to spend too much attention on streamers or balloons, but wanted to subtly pay tribute to this concept.
Food
Looking back on what was popular to eat back in the nineties, i am really glad my mum did not succumb to most of our requests for processed food. Still I wanted to serve some faves at the party, but almost everything that was a popular kid food was drowning in sugar.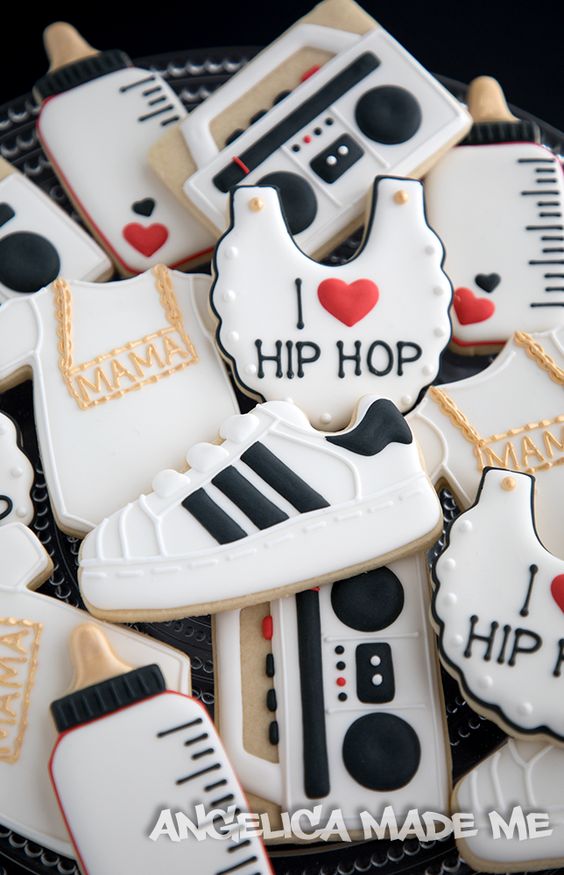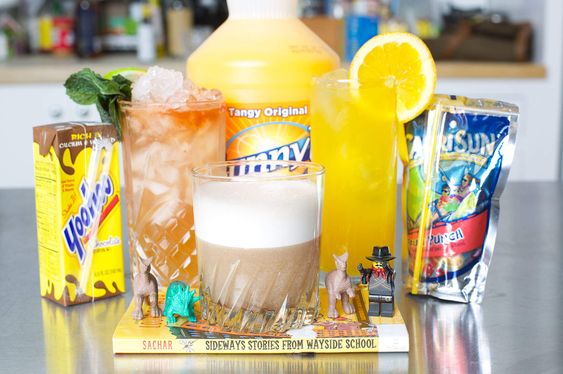 I decided to do a grown up version of bagel bites for that something savory since I was having the shower around brunch time, and sweet pastries including my friend's take on Christina Torsi's cake truffles, and some mixtape shaped sugar cookies.
Also in the mix, were some mocktail recipes inspired by kid drinks popular in the nineties:
sunny d, yoohoo, and hawaiian punch. There will be a mixology station for guests to mix their drinks.
Activites
I am staying away from the more traditional baby shower games and opting for a mashup of family food meets double dare meets legends of the hidden temple since I watched these shows religiously as a kid. My dad will be the game show host (he really wanted to be apart of the shower somehow and i couldn't say no to his adorable request plus he is not afraid to be goofy).
Finally, for the photobooth, I combed the internet looking for nineties shows promo materials, and almost all of them had the cast in front of a plain white or solid colored background. I purchased a backdrop paper roll and borrowed equipment from friends. I am not sure if I want props yet for the guests to use, but for now I will be sticking with just the backdrop.